Shiba Inu price lags as traders are cautious in deploying capital on Shibarium

Share:

Shiba Inu price is yet to catch up with the rising on-chain activity on Layer 2 chain Shibarium. 
The total value of assets locked on Shiba Inu's scaling solution is lagging behind, while a million SHIB wallets engage with Shibarium's bridge.
SHIB price has yielded 4% losses for holders over the past week.
Shiba Inu price is struggling to catch up with the activity on its Layer 2 chain Shibarium. After a botched launch of the scaling solution Shibarium, there has been a lag in the total value of assets locked (TVL) on the chain.
At the time of writing, TVL is $1.04 million, down from $1.27 million on August 28, based on data from DeFiLlama.
Also read: Three cryptocurrencies likely to witness bullish breakouts like Stellar: Toncoin, Monero and Arbitrum
Shiba Inu price and TVL lag behind wallet activity on Shibarium
Shibarium was first launched on August 17. The launch turned out to be botched, with nearly $2 million in Ethereum and BONE locked on the Shibarium bridge. The team worked on scaling the Layer 2 chain with the help of Unification and Polygon and relaunched Shibarium on August 28.
Post the relaunch, there has been a rise in wallets interacting with the Shibarium bridge. Based on data from Shibariumscan.io, daily transactions have climbed to 99,060 as of September 3. 

Daily transactions on Shibarium
Nearly a million wallets have interacted with Shibarium's bridge, marking a key milestone in the Layer 2 chain's journey. Despite these bullish statistics, TVL and SHIB price have failed to catch up. 
As seen in the chart below, TVL is $1.04 million, having declined consistently since the beginning of September. TVL is a key metric since it represents the volume of assets that traders lock in the chain.
It is likely that the botched launch of Shibarium and the general rug pull and pump and dump concerns surrounding meme coins like PEPE have dampened the sentiment among the SHIB community of holders.
Traders in the Shiba Inu ecosystem are reluctant to engage with the SHIB bridge, resulting in the likely TVL decline.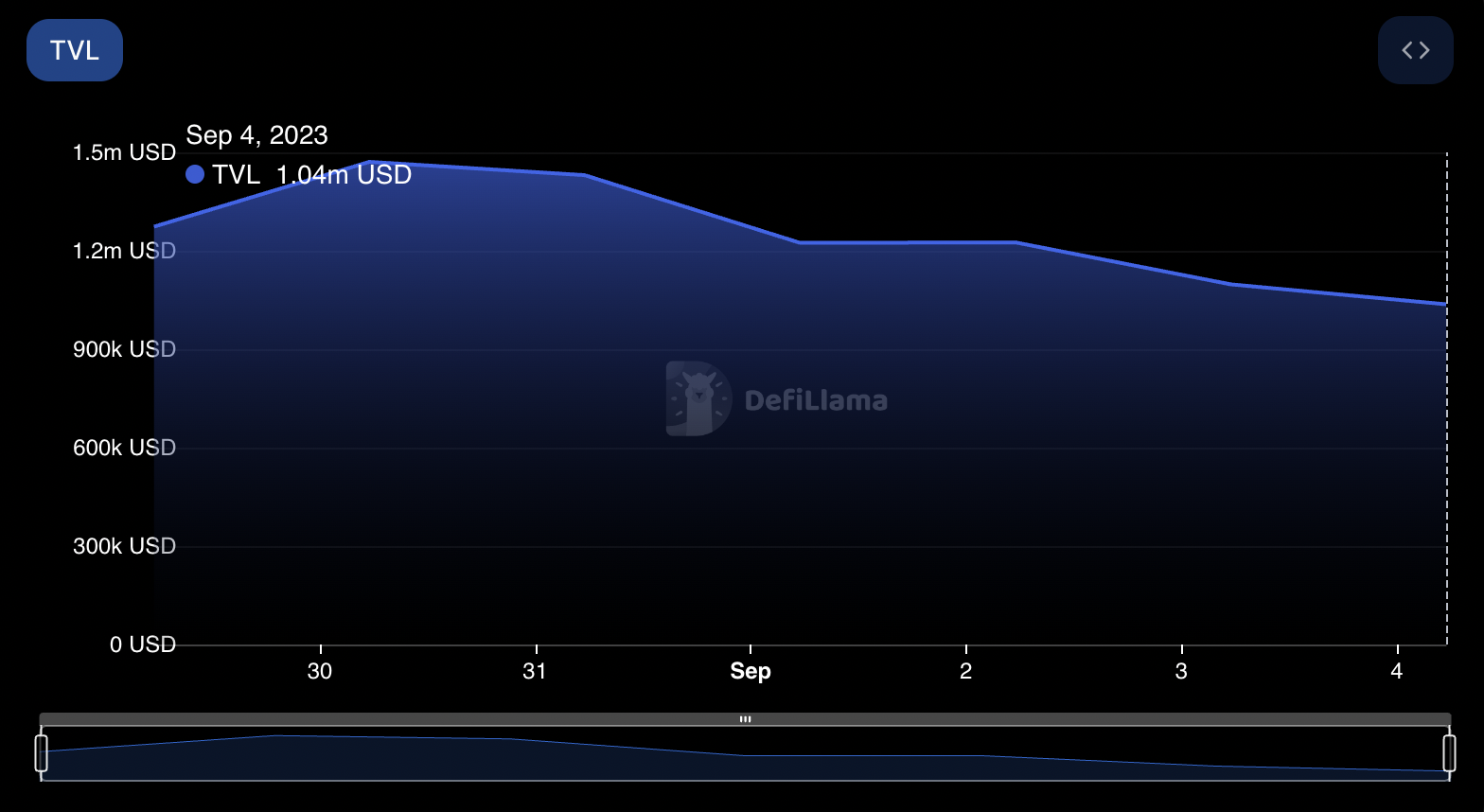 TVL of SHIB as seen on DeFiLlama
SHIB price is $0.00000770 at the time of writing, up 0.13% on the day. Over the past week, SHIB price declined 4.35%.
Cryptocurrency metrics FAQs
The developer or creator of each cryptocurrency decides on the total number of tokens that can be minted or issued. Only a certain number of these assets can be minted by mining, staking or other mechanisms. This is defined by the algorithm of the underlying blockchain technology. Since its inception, a total of 19,445,656 BTCs have been mined, which is the circulating supply of Bitcoin. On the other hand, circulating supply can also be decreased via actions such as burning tokens, or mistakenly sending assets to addresses of other incompatible blockchains.
Market capitalization is the result of multiplying the circulating supply of a certain asset by the asset's current market value. For Bitcoin, the market capitalization at the beginning of August 2023 is above $570 billion, which is the result of the more than 19 million BTC in circulation multiplied by the Bitcoin price around $29,600.
Trading volume refers to the total number of tokens for a specific asset that has been transacted or exchanged between buyers and sellers within set trading hours, for example, 24 hours. It is used to gauge market sentiment, this metric combines all volumes on centralized exchanges and decentralized exchanges. Increasing trading volume often denotes the demand for a certain asset as more people are buying and selling the cryptocurrency.
Funding rates are a concept designed to encourage traders to take positions and ensure perpetual contract prices match spot markets. It defines a mechanism by exchanges to ensure that future prices and index prices periodic payments regularly converge. When the funding rate is positive, the price of the perpetual contract is higher than the mark price. This means traders who are bullish and have opened long positions pay traders who are in short positions. On the other hand, a negative funding rate means perpetual prices are below the mark price, and hence traders with short positions pay traders who have opened long positions.
---
Like this article? Help us with some feedback by answering this survey:
---
---