GME follows broad market lower despite Q2 earnings success

Share:

GameStop leapt on a successful Q2 reported late Wednesday.
GME shares are trending lower on Thursday due to the macro picture.
Losses narrowed from $109 million one year ago to less than $3 million.
Revenue rose 2% YoY, and SGA costs were kept to a minimum.
GameStop (GME) stock jumped above $20 initially in Wednesday's post-market when its second-quarter results were released to great fanfare. The video game retailer cut its ongoing losses down to a smidgin and offered up the possibility of future profits. 
In Thursday's premarket, however, the weight of a global sell-off in equities is weighing on GME's share price. NASDAQ 100 futures fell more than 1% in the premarket, and S&P 500 futures are off 0.6%. 
Barclay's released a client note on Thursday arguing that the global economy is beginning to slow down. Barclay's stated that 2023's worldwide economic growth rate of 2.8% would fall to 2.3% next year. A number of European countries, as well as China, have seen their service sectors begin to stall out this week, based on August data. 
"The global economy should slow a little, as the US downshifts from the strong pace of early Q3 to a mild slowdown, though not a material recession," said Barclay's report.
GameStop earnings news
GameStop lost $-0.03 per share in adjusted terms, which was 11 cents better than Wall Street consensus. Revenue of $1.16 billion, up 2% YoY, also bested the average forecast by $20 million.
GameStop has been holding on for dear life since covid hit and is finally starting to see real results. Growth in GameStop's software segment made up for falling sales elsewhere. Software sales of $397 million rose 25.5% YoY. 
Hardware sales, still the largest segment, were flat on an annual basis, while collectible revenue of $170 million declined 24% YoY.
By holding down expenses, GameStop was able to curtail its expected quarterly loss from nearly $109 million one year ago to just under $3 million in the quarter ending in July. This was contributed to by holding Selling, General and Administrative (SGA) costs down. SGA topped 34% of sales one year ago, but GameStop pushed that percentage to below 28% this time around.
"During the first quarter of fiscal 2023, we began the process of exiting our operations in Ireland, with all stores in the region closing in the second quarter of fiscal 2023," the company said in a statement. "While we expect our cost containment efforts to yield reductions in SG&A expenses in the long term, we have incurred and may continue to incur severance and other non-recurring costs related to these efforts in the short term."
Gamestop FAQs
GameStop is a retailer of video games and gaming merchandise through its approximately 4,400 branded stores worldwide. More than 2,900 of these locations are in the United States. The company was founded in Dallas, Texas, in 1984 as Babbage's but changed its name to GameStop in 1999. The company had revenue of $5.93 billion in 2022 but has been falling over the past decade as physical game purchases have been declining in favor of digital downloads directly from hardware providers like Sony's Playstation, Microsoft's XBox, Nintendo and the Steam platform. The company trades under the GME symbol on the New York Stock Exchange.
In January of 2021, retail stock traders that organized on Reddit's r/WallStreetBets forum realized that GameStop's short ratio exceeded its float through the use of naked shorts. This information circulated until a group of traders decided to buy up the small amount of shares that were available. This caused the price to jump 1,500% in a famous short squeeze that month when short-sellers were forced to repurchase shares to close their short positions at higher and higher prices. Traders like Keith Gill walked away with millions of dollars in profits, while hedge funds like Melvin Capital and White Square Capital would eventually shutter due to extreme losses on their short positions. Traders on the Reddit forum made memes to proselytize their bets on GameStop, which helped the long trade proliferate. Later many of these same traders would glom onto new "meme stocks" like AMC Entertainment and Bed, Bath & Beyond.
In its most recent quarter, Q1 2023, GameStop saw revenue decline 10% YoY to $1.237 billion, which is pretty much par for the course. Much of the reduction in sales is due to declining game and collectible revenue, while hardware and merchandise sales have actually been increasing. GameStop has been making the most of the situation by cutting back on labor costs (SG&A) to the tune of $100 million YoY. These cost-cutting measures led GameStop to cut its net loss YoY by two-thirds to about $50 million. With more than $1 billion in cash on its balance sheet, so its backers think it has enough runway to become profitable again. Out of 12 recent analyst marks, the vast majority gave GME stock a "Hold" rating, while four analysts gave it a "Buy" or "Strong Buy".
Ryan Cohen, the founder and former CEO of Chewy.com, made a large investment in GameStop in December 2020, preceding the stock's epic short squeeze. Cohen became one of the most high-profile investors in the meme stock and later became Executive Chairman of the company. His tenure has resulted in a number of high-profile changes to management. A number of executives left GameStop once Cohen arrived, and he is said to have used his perch to install new executives from Chewy and Amazon in key positions. Cohen owns approximately 12% of the company.
GameStop stock forecast
GameStop stock was already trending upward in the lead up to Wednesday earnings announcement. The Moving Average Convergence Divergence (MACD) indicator has crossed over in bullish fashion, and the 9-day Simple Moving Average (SMA) is narrowing its gap with the 21-day SMA. GME has been recovering from a downtrend that began in mid-June and only began to reverse in late August. 
GameStop bulls are gunning for GME to overtake either the $20 or $22 level. Both prices have acted as support before, so they are necessary for overcome in order to prepare for a broader setup. Any success there will lay the groundwork for a run at the $27 to $30 resistance range.
January and March's support at $15.50 looms below, but investors will hope that those valleys are over and done.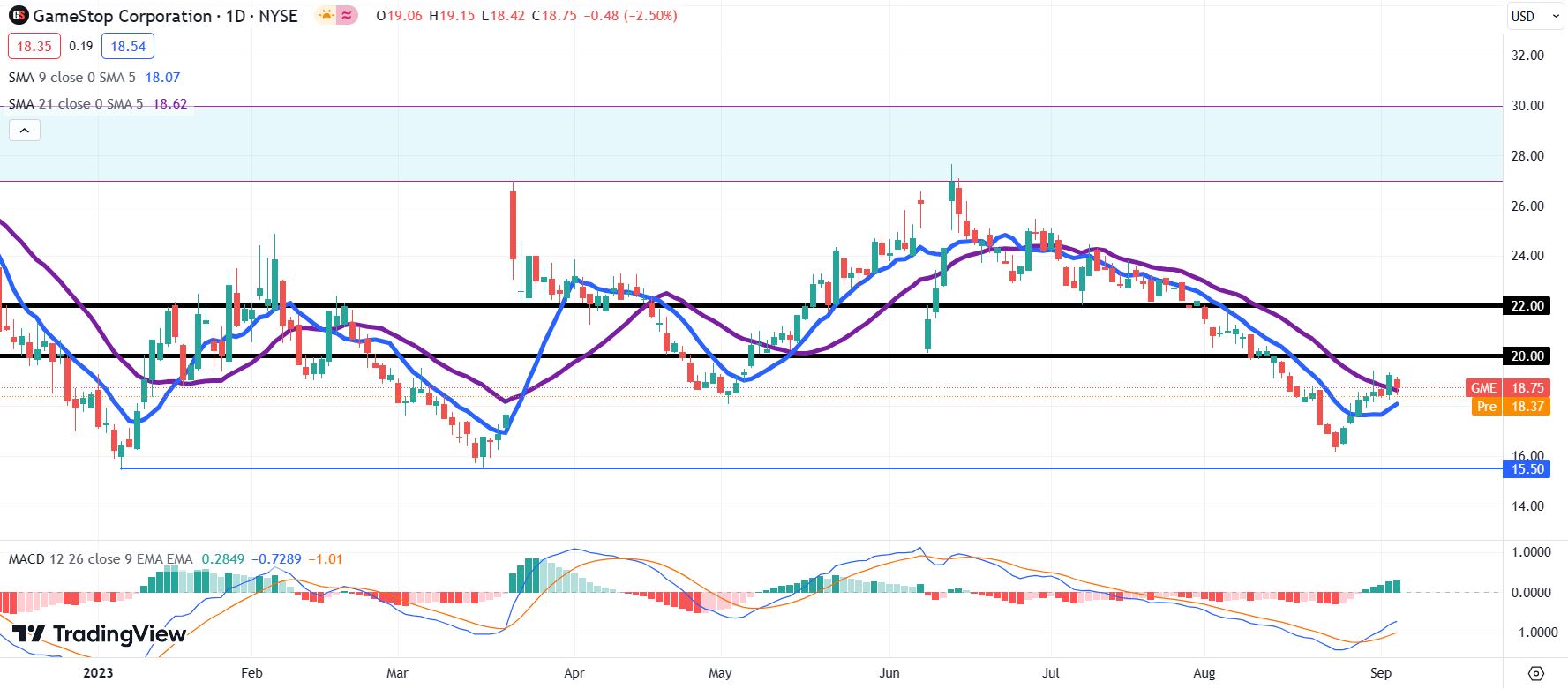 GME daily chart