Bitcoin options traders are selling bear spreads without fear, eyeing BTC rally to $30,000

Share:

BTC options traders are selling $22,000 put trades in BTC to buy calls above $25,000 and near $30,000. 
The move by nearly a quarter of the total volume of BTC options traders implies that large players expect Bitcoin to close the month profitably. 
Traders are selling bear spreads without fear while predicting a swing of 10% or higher in Bitcoin price in September.
Options market data can typically offer insights into price movements of Bitcoin. BTC options allow traders to speculate the price of Bitcoin and use the investment product to leverage or hedge their existing trading positions. Analysts at options trading tool Greeks.live evaluated BTC options data recently.
Early on Thursday, the platform noted large put options (right to sell at a predetermined price) transactions in Bitcoin and shared insights on the same. The data implies that large players in the BTC options market are safely selling bear market spread and expect the asset to close September at a profit.
Also read: Taiwan makes progress on crypto regulation, plans to ban non-compliant offshore exchanges
Bitcoin options data reveals bullish sentiment among traders
Analysts at Greeks.live have noted two types of large put option transactions in BTC, as of Thursday:
Selling $22,000 put to buy a call (right to buy at a predetermined price) above $30,000
Selling $22,000 put to buy a put (right to sell at a predetermined price) near $25,000
The above two type of transactions currently account for nearly a quarter of the BTC options trade volume monitored by the tool. These insights from BTC options data imply that traders expect Bitcoin price to rise from the current level ($25,673 on Binance) and close September at a profit.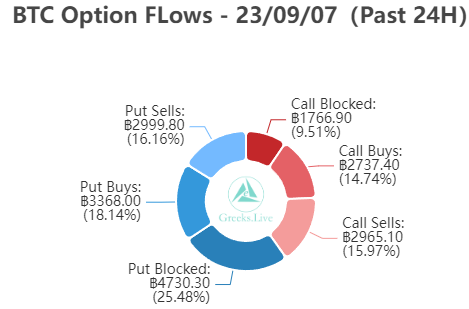 BTC option flows
Adam, a macroeconomic researcher at Greeks.live believes that the above data reflects that large investors believe that a possibility of a decline in Bitcoin price is relatively small in September. With this confidence in Bitcoin price recovery, traders are selling their bear market spread and puts at $22,000 for $25,000 and $30,000.
The researcher shared his personal opinion that market makers are trying to save cost while closing puts at $22,000 and expect a 10% or higher gain in Bitcoin in September. A rally in Bitcoin would turn these traders' positions profitable this month.
Cryptocurrency metrics FAQs
The developer or creator of each cryptocurrency decides on the total number of tokens that can be minted or issued. Only a certain number of these assets can be minted by mining, staking or other mechanisms. This is defined by the algorithm of the underlying blockchain technology. Since its inception, a total of 19,445,656 BTCs have been mined, which is the circulating supply of Bitcoin. On the other hand, circulating supply can also be decreased via actions such as burning tokens, or mistakenly sending assets to addresses of other incompatible blockchains.
Market capitalization is the result of multiplying the circulating supply of a certain asset by the asset's current market value. For Bitcoin, the market capitalization at the beginning of August 2023 is above $570 billion, which is the result of the more than 19 million BTC in circulation multiplied by the Bitcoin price around $29,600.
Trading volume refers to the total number of tokens for a specific asset that has been transacted or exchanged between buyers and sellers within set trading hours, for example, 24 hours. It is used to gauge market sentiment, this metric combines all volumes on centralized exchanges and decentralized exchanges. Increasing trading volume often denotes the demand for a certain asset as more people are buying and selling the cryptocurrency.
Funding rates are a concept designed to encourage traders to take positions and ensure perpetual contract prices match spot markets. It defines a mechanism by exchanges to ensure that future prices and index prices periodic payments regularly converge. When the funding rate is positive, the price of the perpetual contract is higher than the mark price. This means traders who are bullish and have opened long positions pay traders who are in short positions. On the other hand, a negative funding rate means perpetual prices are below the mark price, and hence traders with short positions pay traders who have opened long positions.
---
Like this article? Help us with some feedback by answering this survey:
---
---